Following last year's great success, Call of Duty® has again partnered with Fabacus to offer bonus, in-game content as part of their consumer products strategy for the release of the new game instalment Modern Warfare® III.
Available in George at ASDA, consumers will be able to scan live QR codes concealed within exclusive Modern Warfare III merchandise, produced by licensee partner, Fashion UK, and register their details to redeem and display the digital, bonus content in game.
A previous social media frenzy saw Call of Duty fans throughout the world clammer to receive the rare in-game content as part of 2022's campaign, which was available for consumers of the exclusive George at ASDA range. This year sees the unlocking of a bespoke weapon charm through engaging with the products purchased, and unveiling the code.
Hattie Branston, Buyer at George at ASDA, commented, "We are delighted to bring this exclusive Call of Duty product with live QR codes to our customers, in celebration of the game release. The opportunity to unlock bonus, digital content is one we know our customers will love, following the success of last year."
Representative from Call of Duty, Brooke Carpenter, added, "The technology Fabacus provides continues to advance how we engage our fans further, offering a seamless, digitalised experience to consumers; as well as uniting physical Call of Duty product to digital, in-game content. The insights generated have been hugely beneficial in creating aligned strategies for Modern Warfare III and understanding more about the brand's fanbase in the UK."
Andrew Xeni, CEO and founder of Fabacus commented: "We're looking forward to this year's campaign being bigger and better than last year, and we're thrilled to be collaborating with our partners at Call of Duty, Asda and Fashion UK again. Seeing the adoption of this technology aid collaborative and strategic relationships between brand, partners, and consumers has been beneficial for all parties and I'm excited to see the extension of the Modern Warfare campaign come to life."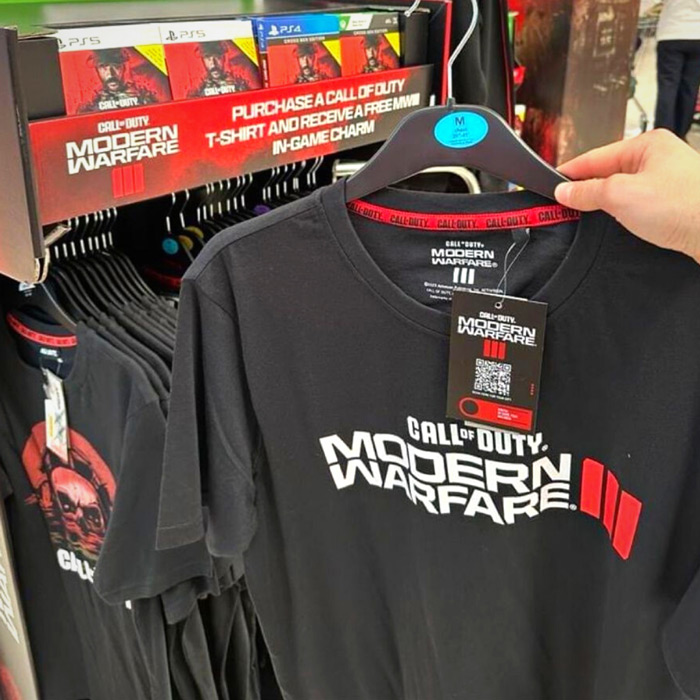 About Call of Duty: Modern Warfare III
Building on the legacy of the Modern Warfare series, Call of Duty: Modern Warfare III is the direct sequel to the record-breaking Call of Duty: Modern Warfare ll. Players will experience a rich and immersive campaign with more player choice, picking up directly after Modern Warfare ll, all-new open world Zombies set on the largest Call of Duty Zombies map ever, and one of the greatest collections of Modern Warfare multiplayer maps ever assembled – both fan favorites and all new ones. For more information and the latest intel check out: https://www.callofduty.com/, https://www.youtube.com/callofduty and follow @SHGames and @CallofDuty on Twitter and Instagram and Facebook.
About Fabacus
Fabacus is a global technology provider with a unique data service designed to digitally-transform the licensing industry. The business was founded by tech and retail entrepreneur Andrew Xeni and is backed by several financial institutions, including iNovia Partners, led by former CFO Google, Patrick Pichette, as well as New Look founder Tom Singh. Fabacus plans to create a truly connected world of licensing through the power of data, facilitating deeper connectivity, visibility and trust across the value-chain, enabling decision-making to be based on a foundation of accurate master data. Please contact info@fabacus.com or visit the Fabacus website for more information: www.fabacus.com
About ASDA
ASDA was founded in 1965 through the merger of the Asquith family grocery business with the Associated Dairies company and its name is derived from this merger.
Headquartered in Leeds, ASDA is the UK's third-largest supermarket by market share, employing more than 140,000 colleagues and serving over 18m customers every week in its 633 stores and online via www.ASDA.com Its George clothing division, which launched in 1989 and is based in Leicestershire, is the UK's second-largest clothing retailer by volume.
ASDA has a long heritage in providing customers with low prices and in June 2022 was crowned the UK's lowest-priced supermarket by the Grocer magazine for the 25th consecutive year. In October 2020, ASDA was acquired from Walmart by the Issa brothers and TDR Capital.
About Fashion UK
Established over 25 years ago, Fashion UK are a Leading EMEA brand & licensing company. Fashion UK work with many of the major high street retailers across Europe, creating bold, innovative apparel and accessories for their stores including knitwear and footwear.
Fashion UK offer a complete route to market, with world-class capabilities in design, sourcing, merchandising, marketing, technology, compliance, logistics and financing. Dedicating 100% of their business to producing Licensed and Branded products.
For any enquires please contact: info@fashions-uk.com
© 2023 Activision Publishing, Inc. ACTIVISION, CALL OF DUTY, and MODERN WARFARE are trademarks of Activision Publishing, Inc. All other trademarks are the properties of their respective owners